Nest Bedding CEO Joe Alexander [Photo: courtesy of Joe Alexander]卡斯帕[]本作原文刊于《快公司》(Fast Company)2017年10月刊,原文网址为:
https://www.fastcompany.com/3065928/sleepopolis-casper-bloggers-lawsuits-underside-of-the-mattress-wars
本译文未经许可不得转载。如欲转载,请致函站长。
The War To Sell You A Mattress Is An Internet Nightmare

一张床垫引发的网络血案
Why did Casper sue a mattress blogger? A closer look reveals a secret, multimillion-dollar battle to get you into bed.

床垫大厂与床垫博客对簿公堂,缘起何在?深度剖析,百万美元暗战,只为让你上床
BY DAVID ZAX
作者:查大卫
One day in the spring of 2016 I mentioned to a friend that I needed a new mattress. Mine was a sunken hand-me-down that had become about as comfortable as concrete.
2016年春,我跟朋友说要买一张新床垫。原来那个旧的已经塌了,像水泥一样硬,超"舒服"。
"I know a guy who can give you a free mattress," my friend said.
"我认识一个人,床垫免费送,"我的朋友说。
This sounded too good to be believed, but my friend protested it was true: "This guy Kenny, he reviews mattresses online, and companies just send them to him. He can't get rid of them fast enough." Not long after came the email introduction: "David, meet Kenny."
这种天上掉馅饼的好事能信?我朋友坚持说千真万确:"这家伙叫肯尼,他在网上评测床垫,公司就把床垫发给他,他巴不得把那些床垫处理掉。"不久之后,朋友的介绍邮件就来了:"大卫,这就是肯尼。"
Journalists aren't supposed to accept freebies. But the one thing I was certain of was that I would never write an article about online mattress reviewing, a subject so self-evidently boring that I became a little sad just imagining it. So when Kenny replied that he expected to have a mattress to offload soon, I only asked him what sort of wine he liked.
记者无功不受禄。但我一直觉得,我永远不会报道在线评论床垫的文章,因为一听就很无聊,单是想一下都有点悲哀。所以,当肯尼回信说他希望能快点将这个床垫脱手时,我问他喜欢什么酒,跟他换床垫。
Kenny Kline turned out to live just blocks from me in Brooklyn, and I walked over a few days later with a nice bottle of red under one arm. Kenny buzzed me in and I stepped inside the entryway, where I found a queen-size mattress already waiting for me, ready to grab and go if I pleased. But I wanted to give Kenny his wine.
肯尼·克莱恩住在布鲁克林,离我只有几条街,几天后,我捎上一瓶好酒夹在胳膊下去找他。肯尼帮我开了大堂的门,我走到入口通道,发现那个大号床垫已经放在那等我了,可以随时带走。但我还是想把酒给肯尼。
I called up to Kenny, and he emerged from his apartment to greet me on the stairs. He was tall and good-looking, with a kind of brogrammer affability. Later I'd learn he had studied physics and finance at Washington University in St. Louis, where he rowed crew and was a Beta Theta Phi brother. I'd also look up some of his mattress reviewing videos.
我打电话给肯尼,他从公寓出来,在楼梯上迎接我。他高高帅帅,阳光有型,有一种老少皆宜的亲和力。后来,我得知他毕业于圣路易斯的华盛顿大学,修读物理和金融,会划皮划艇,参加了兄弟会。我还专门看了他的床垫评测视频。
I asked Kenny about his unusual hobby, figuring that reviewing mattresses was something he did for beer money. But he surprised me by saying that this was what he and his business partner, a guy named Joe Auer, did for a living; their two websites, Mattress Clarity and Slumber Sage, were exclusively dedicated to reviewing mattresses.
我向肯尼询问了他这个稀奇的爱好,心想他评测床垫只是为了赚点酒钱。但他说这是他和乔·奥勒合伙创业,是全职工作;他们有两个网站,叫床垫净界和睡眠达人,专门研究床垫。
Kenny told me that in the last few years, numerous mattress reviewing websites had sprung up. Then he made a strangely implausible claim: Just a few days before, the mattress e-commerce company Casper had sued three bloggers–competitors of Kenny's–whose reviews Casper didn't like. Kenny and his business partner, fortunately, had been spared.
肯尼告诉我,这几年涌现出无数床垫评测网站。还转告了一个难以置信的消息:几天前,床垫网商卡斯珀起诉了三个博客。这三个是肯尼的竞争对手,卡斯珀不喜欢他们的评测结果。肯尼和他的合伙人侥幸躲过一场官司。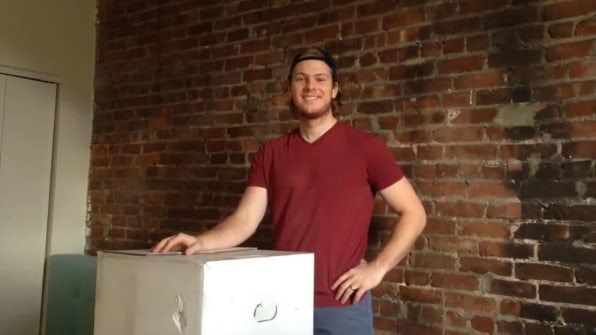 I called an Uber and hauled my free mattress up to my third-floor walkup apartment. The mattress had a poofy marshmallowy top that I didn't quite love, but you get what you pay for. I got used to it as the months went by.
我叫了辆优步,把我的免费床垫拖回我三楼还没有电梯的公寓。这张床垫松松软软,我不是很喜欢,但一分钱一分货。几个月过去了,我也就习惯了。
I might have forgotten about Casper's rumored lawsuits altogether, if the mattress brand hadn't kept following me everywhere I went. That summer and through the fall, Casper ads sprouted all over New York: beautiful ads, often lining subway cars, featuring cartoon creatures curled up together on mattresses. In Casper's cartoons, even the big bad wolf slept peacefully next to three little pigs.
卡斯珀的广告无处不在、无孔不入,不然他们的诉讼案我可能早忘了。那年夏天直至整个秋天,卡斯珀的广告在纽约遍地都是,非常漂亮,印在地铁车厢上,广告里有卡通动物蜷缩在床垫上。在卡斯珀的卡通广告里,连大恶狼都安静地睡在三只小猪旁边。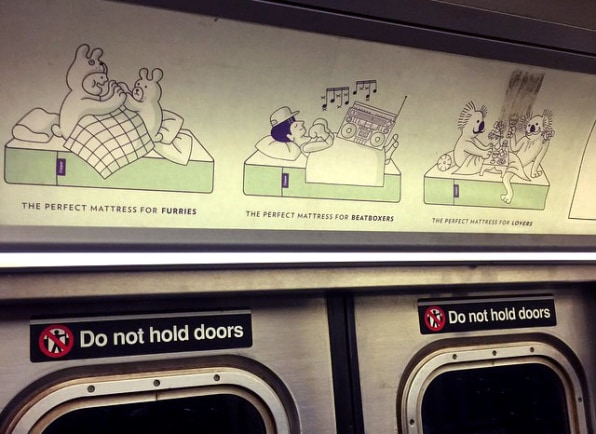 In October I wrote Kenny to ask what became of those lawsuits. "One of the bloggers just publicized it," Kenny wrote back, providing a link to a website, Sleepopolis.com.
10月,我写信给肯尼询问诉讼结果。"博主刚刚公布了,"肯尼回信说,还提供了安眠城的网站链接。
"Casper Sues Sleepopolis with Federal Lawsuit," read the headline on the page I opened. The post was written by a guy named Derek Hales, the site's proprietor. Derek's photo showed a pale, skinny twentysomething with freckles and short red hair. I clicked around on his site. Derek Hales evidently took mattress reviewing seriously, rating the firmness of mattresses on a scale from one to 10, cutting them open to measure the exact thickness of the foam.
一打开就看到标题:"卡斯珀起诉安眠城。"这篇文章的作者叫德里克·黑尔斯,是安眠城站长。从照片上看,德里克苍白瘦削,二十几岁,脸上长着雀斑,红色短发。我在他的网站上看了看。德里克·黑尔斯显然对床垫的评估很认真,将床垫的硬度分为10度,为了测量泡沫的确切厚度还会把床垫切开。
I returned to the page outlining the lawsuit.
我回到了概述诉讼的那一页。
"From the very first day Sleepopolis launched I knew I wanted to build something different," wrote Derek. "Reviews rooted in honesty, transparency, integrity, and clarity, without the marketing speak or fluff. Guided by these principles I feel like Sleepopolis readers have the right to know that Casper Sleep has filed a federal lawsuit in New York, suing both Sleepopolis and me, personally."
德里克写道:"从运营睡眠城第一天开始,我就决心突破陈规。我的评测力求诚实、透明、公平、清晰,不推销不弄虚作假。在这个原则下,我觉得睡眠城的读者有权知道,卡斯珀已经在纽约提起了联邦诉讼,起诉了本网站和我本人。"
So it was true. I scratched my head. Casper was on its way to becoming a 750-million-dollar company. It was the hottest of the bed-in-a-box disruptors, with investments from celebrities like Ashton Kutcher and Nas. And it was picking on some skinny blogger from Arizona?
所以这件事坐实了,我挠了挠脑袋。卡斯珀市值即将达到7.5亿美元,在床具业兴风作浪,分外高调,获影星投资人艾什顿·库彻(Ashton Kutcher)和嘻哈歌手纳斯(Nas)等名人投资。这么大的公司去欺负亚利桑那州的瘦博主干什么?
I called my editor and confessed that in a moment of weakness I had accepted a free mattress from an online mattress reviewer named Kenny, and that I wanted to write about this bizarre industry and its even more bizarre David-and-Goliath legal battle.
我打电话给编辑,承认一时心软,从床垫评测博主那里拿了一张免费床垫,还想报道这个奇怪的行业,报道这场巨人与小个子之间的诉讼战。
I couldn't know it then, but the outcome of that battle would influence the purchase decisions of many thousands, if not millions, of people seeking a good night's sleep. It would also reveal just how thoroughly the internet and the businesses that thrived there had blurred the lines between product reviews and advertisements. All I'd wanted was a mattress, but what I got was a look at a little-known and hugely lucrative annex of e-commerce, one where the relationships can often get a little too comfy—until they're not.
我当时没有料到,这场诉讼的结果会影响成千上万乃至数百万消费者,而他们只是想睡个好觉而已。这场诉讼还揭示了网上的产品评测与产品广告你中有我。我想要的原本只是一张床垫,但透过这张床垫,我却看到鲜为人知且利润丰厚的电子商务一角,这里有勾肩搭背,也有反目成仇。
I wanted to learn how Derek Hales had gotten into mattress reviewing, so I called him up in Arizona. He had the nerdy intensity of a Jesse Eisenberg character. Derek told me he'd always been entrepreneurial; he'd helped pay his college tuition by creating a World of Warcraft blog. After graduating from Kansas State in 2010 with a business degree, he spent the next few years working for a company outside Phoenix, doing search engine optimization, or SEO, the art of getting web pages to rank higher in Google searches.
我好奇德里克当初为何进入这行的,于是打给远在亚利桑那州的他。他的性格很搞怪,像杰西·艾森伯格演的怪咖角色那样。他说自己一直都敢想敢做;大学那时就建了《魔兽世界》博客赚学费。2010年,他从堪萨斯州立大学商科毕业后,在凤凰城外工作了几年,专职做搜索引擎优化(SEO),使网页在谷歌搜索中排名更高。
In 2012, Derek messaged Samantha Niezwaag, a math teacher, on ChristianMingle.com. "The emails soon turned into novels," Samantha would later recall. Both had grown up in the Midwest and the South; both were obsessed with Lord of the Rings. A flirty conversation turned to the question of whether they could squeeze 78 dates into 25 weeks, which Derek remarked would mean 3.12 dates per week.
2012年,德里克在Christian Mingle.com(基督徒相亲网站)上给萨曼莎·尼泽瓦格留言。这个姑娘是一名数学老师。"一开始还只是只言片语,慢慢就变成了长篇大论,"萨曼莎后来回忆道。他俩都在中西部和南部长大,都痴迷《指环王》。有一次他俩互相逗趣,要挑战25周约会78次。德里克说,平均下来每周要约会3.12次。
"When he gave me two decimal places," said Samantha, "he had me hooked." On their engagement website, Samantha called Derek "Godly, passionate, loyal, supportive, ambitious, intelligent, and funny"; they got married in May of 2014.
"他居然精确到小数点后两位,"萨曼莎说,"一下就把我迷住了。"在他们的订婚网站上,萨曼莎给德里克的评价是"虔诚、热情、忠诚、支持、雄心、睿智、风趣";2014年5月他们结婚了。
The young husband and wife needed a new mattress, but were shocked by the prices at the local mattress store: the average queen-size was around $1,500, but as much as $5,000 for a fancy Tempur-Pedic. One of Derek's coworkers told him about a two-year-old Phoenix-based company called Tuft & Needle, which sold its queen-size mattress directly to consumers online for just $600. Though buying such a large item online felt a little unusual, there was a 100-day trial period, so what was the risk?
这对年轻夫妇要买新床垫,但他们觉得当地床垫价格高的离谱:普通双人床垫要卖到1500美元,而像泰普尔床垫这种好牌子,价格高达5000美元。德里克的同事告诉他,一家在凤凰城才开了两年多的Tuft & Needle公司,大号床垫在网上才卖600美元。虽然在网上购买这种大家具感觉不放心,但有100天的试用期,值得一试。
When it arrived, Derek and Samantha found the Tuft & Needle too firm for their tastes, so they organized a donation pickup and received their refund. Then they tried their luck with another online mattress company called Casper, which had just launched. When their Casper mattress arrived, Derek and Samantha found they liked it enough to keep it.
当床垫送到时,德里克和萨曼塔觉得这床垫太硬了,他们不习惯,所以退货退款。然后,他们到另一家床垫网商卡斯珀碰运气。收到卡斯珀床垫,德里克和萨曼塔非常喜欢。
A few weeks later, in September of 2014, Derek spotted an opportunity. He registered the domain Sleepopolis-Mattress-Reviews.com and threw together a quick website comparing his experiences with Tuft & Needle and Casper (he eventually migrated his content to Sleepopolis.com, which he had also registered). A week later, Derek and Samantha posted a positive video review of their Casper on YouTube.
几周后,2014年9月,德里克看准时机,注册了"安眠城床垫评论"的域名,并将Tuft & Needle和卡斯珀两者进行对比,加上自己的亲身体验,整理成文发布到网站上(这个网站是安眠城网站的前身)。一周后,德里克和萨曼莎在YouTube(视频网站)上发布了一段视频,对卡斯珀床垫大加好评。
"Pretty quickly, it seemed I had struck a chord with a lot of people," Derek recalled. The Casper video eventually racked up 25,000 views.
"很快,这段视频引起很多人共鸣,"德里克回忆道。卡斯珀床垫的视频最终获得了2.5万次点击。
From the beginning, Derek monetized his site and YouTube channel using what are called "referral links," or "affiliate links." These special links were embedded with a tracking code. If a consumer clicked from Derek's site through to a mattress company's website (like Casper.com) and made a purchase within 30 days or so, then that company would pay Derek a reward.
从一开始,德里克就利用"推荐链接"或"联属链接"用自己的网站和YouTube频道赚钱。这些链接嵌入了跟踪代码,如果消费者从德里克的网站上点击进入床垫公司的网站(如卡斯珀官网),并在30天内购买,那么该公司将支付德里克相应酬金。
For each mattress he reviewed, Derek would either negotiate a commission structure directly with the mattress company, or accept an existing offer via an intermediary site like ShareASale.com (which has aggregated these so-called affiliate marketing opportunities since 2000). Then Derek would put the affiliate links at the bottom of his reviews. Sometimes these links took the form of a digital coupon users could click, which would apply a discount at checkout.
每张床垫的评测,德里克要么与床垫公司直接谈判佣金分成,要么通过ShareASale.com等中介网站接受已制定好的报价(ShareASale.com成立于2000年,专注整合联属网络营销机会)。德里克会他评测末尾放上推荐链接。有时,这些链接还会附赠电子优惠券,用户点击领取后在结账时用来打折。
Derek disclosed the nature of these affiliate relationships in a corner of his website, though not the exact terms. In those first months, he told me, Derek typically received a $50 digital Amazon gift card for every mattress sold (or 5% on a roughly $1,000 mattress, a commission rate that had become standard in affiliate marketing).
德里克在网站角落里解释了这些不成文规则,而且不是那么严谨。他告诉我,最初几个月,每卖出一张床垫他都会收到一张价值50美元的亚马逊代金券(或者大约5%的佣金,一般一张床垫卖1000美元,这也是联属网络营销的收费标准)。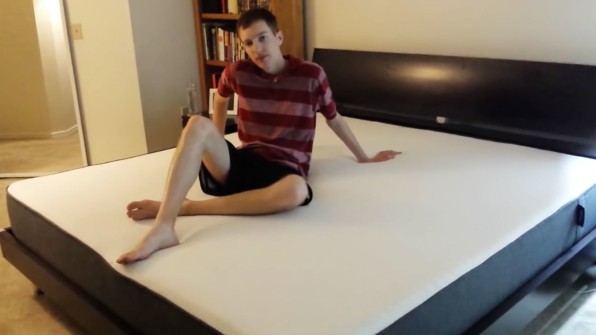 Affiliate marketing is about as old as e-commerce, but the industry got a kick-start after Amazon.com launched an affiliate program in 1996. The industry has since ballooned, with around $4.5 billion changing hands in 2016 just in the U.S. Affiliate marketing is even becoming an important source of revenue for legacy publishers like The New York Times: Last year the paper paid $30 million for two review sites, The Wirecutter and The Sweethome, which have built a bustling business around affiliate links. But a much larger share of the affiliate marketing economy is made up of people like Derek Hales, stray blogger-entrepreneurs who hunt for emerging categories of products that consumers are seeking guidance on, then jockey for top position in related Google searches (like "best mattresses" or "mattress reviews").
会员制营销(即联属网络营销)和电子商务一样由来已久。1996年亚马逊推出会员制,这一产业就此伊始。而后,一发不可收,仅2016年在美国就有大约45亿美元的营业额。会员营销甚至成为传统出版商(如《纽约时报》)的重要收入来源。去年,《纽约时报》向评论网站Wirecutter和Sweethome支付酬金3000万美元,这两家网站的主要业务就是联属链接。但在联属网络营销经济中,像德里克这样的零散博客创业者反而是主力军。他们发掘新兴产品吸引消费者购物,然后在谷歌搜索的关键词中抢占排名前列,如"最佳床垫"或"床垫评论"。
Derek was smart and talented, but he was also lucky. Through a series of coincidences–getting married in May 2014; living in Phoenix, where Tuft & Needle was based; disliking that mattress and trying a Casper instead; having some SEO savvy–he had stumbled into early-mover advantage in a category primed to explode.
德里克天资聪颖,福星高照。2014年5月结婚;住在凤凰城,Tuft & Needle总部也坐落于此;不喜欢他们床垫所以买了卡斯珀的床垫;有搜索引擎优化的技术底子。在这一系列巧合的推动下,他卷入了蓄势待发的行业先锋大潮中。
"There was a waterfall of companies launching," he recalled. Nipping at the heels of Casper and Tuft & Needle came other direct-to-consumer mattress companies like Leesa, Yogabed, Purple, and GhostBed; in time, over 100 brands in all. Most were new companies, while others were e-commerce divisions from legacy brands scrambling to make up lost ground amidst a tectonic shift in how consumers were beginning to buy mattresses. In the $14 billion U.S. mattress market, online mattresses only made up $300 million in sales two years ago; this year, sales may reach $1.2 billion. All of these emerging brands wanted Derek to review their products like he had the Casper–and all were willing to pay Derek a bounty. Like Kenny Kline in Brooklyn, Derek was soon handing out free mattresses he'd reviewed to his Phoenix friends and neighbors, and eventually had mattresses piling up in a spare room.
他回忆道:"创业公司喜欢一窝蜂凑热闹"。卡斯珀和Tuft & Needle之后,网络直销床垫公司纷纷成立,如丽萨、瑜伽床业、紫宝、精灵床业等;一时间,100多个品牌出现。大多数都是新公司,剩下的则是传统品牌的电子商务部门,希望追上潮流,抢占前期错失的的市场份额,追随消费者迁移到网上购买床垫的步伐。两年前,美国床垫市场总销售额140亿美元,在线销售额只占3亿美元;而今年,在线销售额将高达12亿美元。新品牌都希望德里克评测自己的产品,给点好评,当然,为此掏腰包也非常乐意。与布鲁克林的肯尼•克莱恩一样,德里克没多久就开始给他凤凰城的朋友和邻居们免费送床垫,但床垫还是太多,堆满了整个房间。
In February 2015, Derek quit his day job to focus on Sleepopolis.
2015年2月,德里克辞掉全职工作,专心打理睡眠城。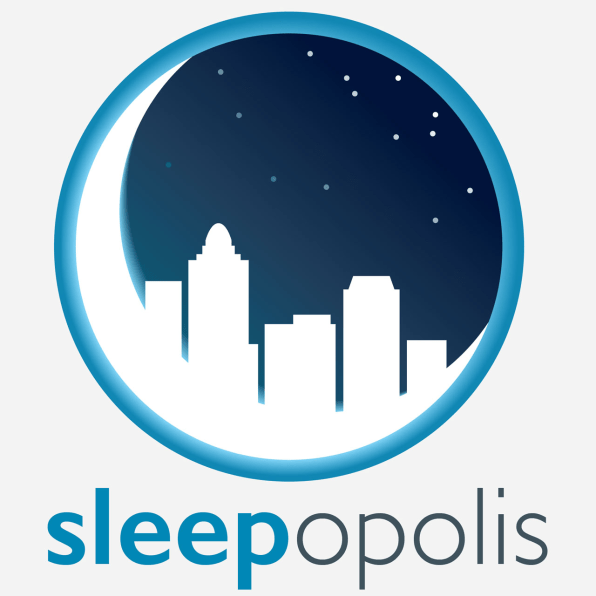 It was a smart gamble. In the months and years that followed, Derek would build his site into the most-trafficked web destination for people seeking information on mattresses, beating out a raft of competitors. In total, his YouTube reviews have garnered 2.5 million views, while the site itself would grow to attract over half a million visits every month. If you happened to search for mattress reviews online in the last three years, odds are you landed on Sleepopolis. Derek built his site into the number-one Google hit for countless popular queries related to mattresses.
这一博,他赌赢了。接下来几个月,德里克的网站成为流量最高最受欢迎的床垫评测站点,将大量竞争对手斩于马下。他的YouTube评测视频总共有250万浏览量,网站每月访问量超过50万。如果您这三年在网上搜过床垫评测,十有八九访问过睡眠城。网上搜索的海量结果中,德里克的网站已经拔得头筹。
Our phone call taught me a great deal about this strange backwater of the internet economy. But a mystery remained. Throughout those first, heady months, Derek maintained a good relationship with Casper. How, then, by late 2016, had it gone so sour?
这通电话,帮我我了解到很多互联网经济的奇怪谜底,但是仍有一个未解之谜。在头几个月里,德里克和卡斯帕保持着良好的关系。那么到2016年底,为何变得如此水火不容呢?
I asked Derek, but he couldn't tell me. With Casper's lawsuit against him pending, Derek's lawyer forbade him from even mentioning the company by name. I would have to dive into a growing stack of mattress lawsuits to find out.
我问德里克,但他没回答。卡斯帕与他的诉讼还没定论,德里克的律师也不准他发表相关言论。我只能扎进以往床垫诉讼案堆里找答案。
As Casper flourished through 2014 and early 2015, I learned, it enjoyed a mutually beneficial relationship with Sleepopolis and similar sites. For many bloggers, in fact, Casper was among the first mattress companies to offer affiliate commissions, leading its competitors to respond in turn. The reviews sites were key parts of what marketers call the "purchase funnel," converting a vague interest in mattresses into awareness of a specific brand, and often the decision to buy it. Many consumers were Googling terms like "best mattress," landing on sites like Sleepopolis, and learning about e-tailers like Casper for the first time.
据我了解,卡斯珀在2014年和2015年初蓬勃发展,与安眠城这类网站互帮互助。对于许多博主,卡斯帕是第一家提供联属佣金的床垫公司,引导同行潮流。评测网站是购买渠道的关键节点,将消费者的模糊兴趣转化为对特定品牌的了解,通常会促成购买行为。许多消费者都使用谷歌搜索"最佳床垫"这种关键词,搜索结果会引导他们点击安眠城等网站,并首次了解像卡斯帕这样的电子零售商。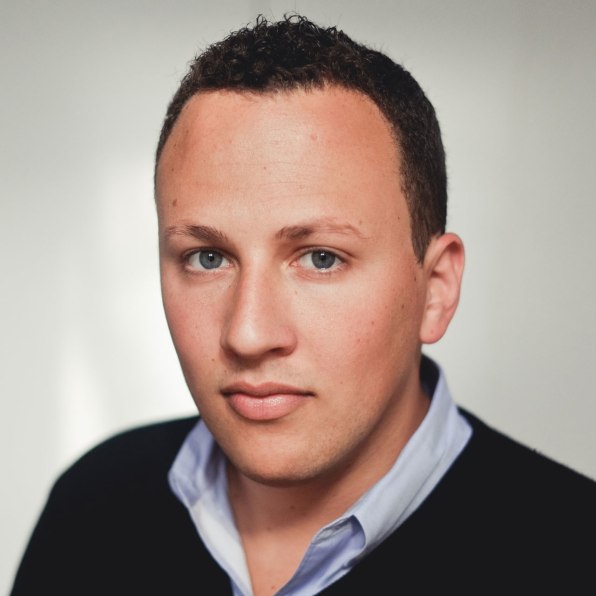 Indeed, one would never have predicted looming lawsuits from a friendly 2015 email exchange, in which Casper CEO Philip Krim attempted to court an affiliate marketer named Jack Mitcham, who ran a Sleepopolis-like site called Mattress Nerd.
然而,一场诉讼始料未及,其根源可以追溯到2015年的一封平平常常的邮件。这封邮件的发件人是卡斯帕首席执行官菲利普·克里姆,收件人是杰克·米切姆,"床垫无忧"网站的站长。
In January 2015, Krim wrote Mitcham that while he supported objective reviews, "it pains us to see you (or anyone) recommend a competitor over us."
2015年1月,克里姆写信给米切姆,说虽然他本人支持客观评测,但"不希望看到你(或者别人)推荐我们的竞争对手"。
Krim went on: "As you know, we are much bigger than our newly formed competitors. I am confident we can offer you a much bigger commercial relationship because of that. How would you ideally want to structure the affiliate relationship? And also, what can we do to help to grow your business?"
克里姆还说:"你也知道,我们比新成立的竞争者规模更大。我相信我们可以为你们提供一个更强的商业关系。你希望这个合作关系什么样?还有,需要我们怎么帮你做大?"
When Mitcham responded to say that he and his wife found the Casper mattress uncomfortable, Krim persisted:
米切姆说,他们夫妇觉得卡斯帕床垫不舒服,克里姆坚持说:
"Is there any way I could get you to spend more time on the Casper?…We would even be happy to fly you out to NYC to tell you more about the product or have you spend a long weekend on one. I'd also love to find ways to work more closely. We would love to become your biggest referral check."
"你愿意多花点时间再试试卡斯帕床垫吗?我们热烈欢迎你来纽约,食宿路费全包,详细介绍我们的产品,整个周末都可以在我们的床垫上度假。我非常愿意和你紧密合作并成为您最大的'摇钱树'。"
Krim then upped his offer, promising to boost Mitcham's payouts from $50 to $60 per sale, and offering his readers a $40 coupon. "I think that will move sales a little more in your direction," replied Mitcham on March 25, 2015. In the months that followed, Mattress Nerd would become one of Casper's leading reviews site partners. (The emails surfaced due to another mattress lawsuit, GhostBed v. Krim; if similar correspondence exists with Derek Hales, it has not become public.)
接着,克里姆开出更好的条件,每卖一张床垫,佣金从50美元涨到60美元,米切姆的读者还专享40美元优惠。米切姆在2015年3月25日回信说:"这样一来,你们的销量应该会增加一点。"后来几个月,床垫无忧俨然卡斯帕的最佳评测网站。(此邮因精灵床业对克里姆的诉讼而浮出水面,至于德里克是否收到过类似的信邮,尚未可知。)
Just a few months later, in June 2015, something big happened that would ripple through the whole mattress ecosystem: Casper received $55 million in Series B investment at an implied half-billion-dollar valuation, making it the front-runner in the online mattress wars.
几个月以后,2015年6月,整个床垫业界发生了一场大地震:卡斯帕公司在B轮融资中获得五千五百万美元,身价估值5亿美元,一跃成为在线床垫战争的领跑者。
The company started spending relentlessly on advertising, and soon just about everyone had heard of Casper, giving the startup a measure of escape velocity from its competitors. Casper's sales topped $200 million last year, though it declines to say whether it is profitable. Fortune has estimated Casper's annual marketing budget to be $80 million.
卡斯帕开始大手笔投放广告,不久之后便家喻户晓,将竞争对手远远甩开。去年,卡斯帕销售额高达2亿美元,但拒绝透露是否盈利。《财富》杂志估计,卡斯帕的年营销预算为8千万美元。
As Casper grew, more mattress reviews sites began mushrooming up in its shadow, earning quick commissions while creating little value for Casper. Casper decided to allow the contracts it held with affiliates to expire, "to reassess the situation," Casper CEO Krim told me.
卡斯帕不断壮大,床垫评测网站雨后春笋一般在这课大树底下遮荫,他们赚钱又快又容易,卡斯帕却没捞到什么好处。卡斯帕CEO克里姆跟我说,等这些联属合同期满就不再续约了,"需要重新考量一下"。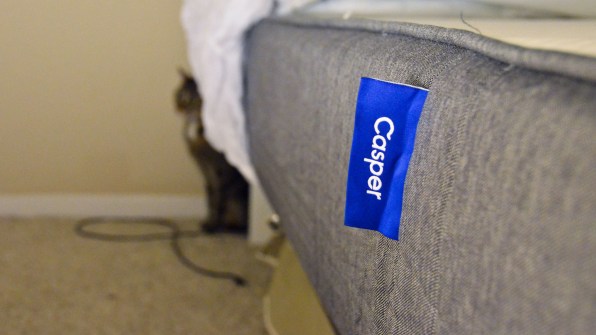 In July 2015–a month after the $55 million investment–Krim revived his email chain with Mattress Nerd's Mitcham, informing him that while Casper had "decided to sunset" its affiliate relationships, it nevertheless would be interested in exploring "economic relationships beyond the affiliate program structure."
2015年7月,融资五千五百万美元一个月后,克里姆重新联系上了床垫无忧的米切姆,告诉他虽然卡斯帕已经"决定弃用"联属合作模式,但还是愿意尝试"联属之外的经济合作架构"。
"Nothing would make us happier than to pay you a ton of money," Krim elaborated in his next email, "but we need to do it in a context of being accretive to Casper. Currently you actively endorse a competing product on our review page. What can we do not to have you endorse another product as superior to ours? I am certain we can be a better partner to you than Leesa."
克里姆又写了一封信说:"我们巴不得给你一大笔钱,但是首先你得主推卡斯帕。目前,在我们的评测页面上你还在推荐竞争对手的产品。怎样你才肯说我们比他们好呢?我觉得我们对你来说是更好的合作伙伴,比丽萨床垫强。"
It appears that Krim's dialogue with Mattress Nerd did not end in a comfortable place. Likewise for negotiations Krim may have been having with Sleepopolis or Sleep Sherpa. That summer, Casper declined to renew affiliate relationships with all mattress bloggers. (It eventually reinstated some.)
克里姆与床垫无忧的对话不欢而散。克里姆应该也与安眠城和羊绒美梦有类似的商谈,结果应该也如是。那年夏天,卡斯帕与所有床垫博客都不再续约。(后来有几家重新签约。)
An antagonism set in between Casper and at least some of these reviewers, a few of whom conspicuously began to downgrade their assessment of the company's mattress, and to more vocally favor competitors that did still pay commissions, like Leesa.
卡斯帕与众多评测博主之间剑拔弩张,有些博主故意给卡斯帕床垫扣分,明确支持诸如丽萨等等依然支付佣金的厂家。
By April 2016, Derek had updated his assessment of the Casper too, writing that, after 18 months of reviewing competing mattresses, he could no longer recommended the mattress. He even added a little yellow box near the top of that page, which read: "Thinking about buying a Casper? Do your homework! Check out these 4 mattress companies that Sleepopolis loves."
到2016年4月,德里克也更新了对卡斯帕的评测报告,写道,经过18个月对各家床垫的评测,他不再推荐卡斯帕床垫。他还在页面顶部放了个文本框,写着:"想买卡斯帕?长点心查一查吧!不如看看安眠城推荐的四款床垫。"
That little yellow box was a huge thorn in Casper's side. If you Googled the search term "casper mattress review," which about ten thousand people did per month, the first webpage Google served up was Derek's review, with its poison box. Derek ranked first for that query, too.
这一行字变成了卡斯帕的肉中刺。每个月有一万多人在网上搜索"卡斯帕床垫评测",排位第一的搜索结果就是德里克的评测,还有这句恶毒的反面评语。这个页面的点击量当然也是第一。
On April 29, 2016, Casper filed lawsuits against the owners of Mattress Nerd, Sleep Sherpa, and Sleepopolis (that is, Derek), alleging false advertising and deceptive practices.
2016年4月29日,卡斯帕将床垫无忧、羊绒美梦、安眠城(即德里克)三家博主告上法庭,告他们虚假广告和欺诈。
Mattress Nerd and Sleep Sherpa quickly settled their cases, and suddenly their negative Casper reviews disappeared from their sites, in what many onlookers speculated was a condition of the settlements. But by the end of 2016, when I started closely studying the lawsuits, Derek's Casper review remained, defiantly, up on Sleepopolis. He was soldiering on in his legal battle with the mattress giant. People who knew him called Derek a fighter; one of his nicknames was "Halestorm."
床垫无忧和羊绒美梦很快就结案了,两家网站上关于卡斯珀的负面评测一夜之间消失不见,大家普遍猜测他们之间庭外和解了。但直到2016年底,我开始关注这些诉讼时,德里克那篇卡斯帕评测依然妥妥地挂在安眠城网站上,雄赳赳气昂昂。他在与床垫巨人的诉讼大战中砥砺前行。认识他的人都说他是战斗机,还送他一个外号"寒霜勇士"。
Casper had another way of referring to him. Derek was "part of a surreptitious economy of affiliate scam operators who have become the online versions of the same commission-hungry mattress salesmen that online mattress shoppers have sought to avoid," Casper's lawsuit alleged. The company complained that Derek was not forthright enough about his affiliate relationships, noting his disclosures were buried in a remote corner of his site. This did violate recently issued FTC guidelines, and Derek updated his site to comply.
在卡斯帕的诉状里,德里克完全是另一个样。他们说德里克是"联属诈骗经济的幕后黑手,是网络版床垫推销员,赚取高额佣金,网购床垫者深恶痛绝、避而远之。"卡斯帕公司还指控说,德里克对他的联属关系没有履行告知义务,指出有关联属模式的信息被藏在网站的犄角旮旯里。这么做违反了美国联邦贸易委员会(美国消协)最新政策,因此德里克按规定更新了他的网站。
Casper wanted Derek's behavior to be stopped, and it wanted monetary damages. "Casper estimates that Sleepopolis's conduct has caused it millions of dollars of lost sales to date," wrote Casper's lawyers.
卡斯帕希望德里克停止侵权,并要求经济赔偿。卡斯帕律师写道:"卡斯帕估计,安眠城的行为已经使其损失数百万美元的销售额。"
In a motion to dismiss the case filed in July 2016, Derek blasted what he called Casper's attempt at censorship. The statements on his site were fundamentally his honest opinions: He claimed he had become less enthusiastic about the Casper–which he still called a good mattress–only because equal or better mattresses had entered the market, sometimes at lower prices. (A Casper queen-size runs $950 today, a Leesa queen $940; Derek's site also offered coupons that lowered the Leesa's price.)
德里克在2016年7月要求撤诉,抨击卡斯帕审查评测,控制言论。他在自己网站上开诚布公,声称虽然卡斯帕还是好床垫,但是他已经不那么热衷了,因为市场上有很多一样好甚至更好的床垫,而且价格更便宜。(卡斯帕的双人床垫现在卖950美元,而丽萨的则卖 940,德里克的网站还有丽萨优惠券,价格还能更低。)
In October 2016, after weighing both sides' arguments, the judge agreed that while most of Derek's statements were opinions, immune to a lawsuit, Derek had also made some statements of fact on his site: statements like "No review or content is paid for by any manufacturer or sleep company," and "No member of Sleepopolis is employed by any mattress or sleep company." If Casper could prove those statements false, it might have a claim for damages.
2016年10月,权衡双方意见后,法官认为德里克的大部分言论都只是陈述个人观点,受法律保护。但也有一部分内容是实质描述,比如网站上说:"所有评论论及内容皆非企业付费提供"和"安眠城全体成员皆无受聘于任何床垫或睡眠公司"。法院认为,如果卡斯帕能证明这些陈述虚假不成立,则可要求赔偿损失。
The judge held that the case could proceed.
法官认为本案成立。
The case would now move to the "discovery" phase, in which each side was entitled to acquire documents and deposition testimony from the other.
现在案件推进到"证据开示"阶段,从另一方获取证物和证词。
Derek now faced the prospect of litigating for months, if not years, against a corporate behemoth in New York–a market where his lawyers' fees were likely to top $750 an hour.
摆在德里克面前的,是长达数月乃至数年的官司,对手是纽约企业巨头。在纽约,律师费可能高达每小时750美元。
At that rate, how long could Derek afford to go on fighting?
如此高昂的费用,德里克能撑多久?
The question of just how much money Derek made off Sleepopolis interested everyone I spoke to. It had even been the subject of a gossipy, if rigorously argued, post on a site positioning itself as a gadfly of the mattress industry, HonestMattressReviews.com. (A court later determined that, despite the site's name, the owner of Honest Mattress Reviews had concealed ties to the mattress company GhostBed.)
我认识的人都很好奇德里克从安眠城赚了多少钱。自恃床垫业界嘴炮王的"实诚评测床垫网"上有专门一个帖子,更新讨论这个诉讼案的最新进展。(后来法院认定,虽然这个网站叫"实诚",可是站长与精灵床业有千丝万缕又不可告人的关系。)
According to the website analysis tool SimilarWeb, Derek referred 1.6 million visits to outside sites between February 2016 and July 2017. Much of this traffic went to Amazon.com (when Derek lacked a direct affiliate relationship, he was able to get at least some money as an affiliate of Amazon). A significant portion went to the mattress companies Purple, Loom & Leaf, and Nest Bedding.
据分析,德里克在2016年2月到2017年7月期间推荐了160万次站外浏览量,其中大部分流向亚马逊(这样就算德里克没有直接的联属合约,至少能从亚马逊赚些钱)。还有很大一部分则导向紫宝、织叶、巢寝等床垫公司。
A Loom & Leaf executive told me they had paid Derek $100,000 in 2016; Nest Bedding's CEO Joe Alexander said he had paid Derek a multiple of that. "My life changed because of Derek," Alexander told me. "He made me a millionaire."
织叶的经理跟我说,他们2016年向德里克共付10万美金。巢寝的首席执行官乔·亚历山大说他们给了几十万。他说:"因为德里克,我的人生发生了翻天覆地的变化,因为他,我才成了百万富翁。"
But by far the most traffic during that period–some 400,000 visits–was referred out to the website of Derek's favorite mattress company, Leesa.
但那一年半时间,绝大部分外链流量导向德里克最喜欢的床垫公司,丽萨,差不多有40万次访问量。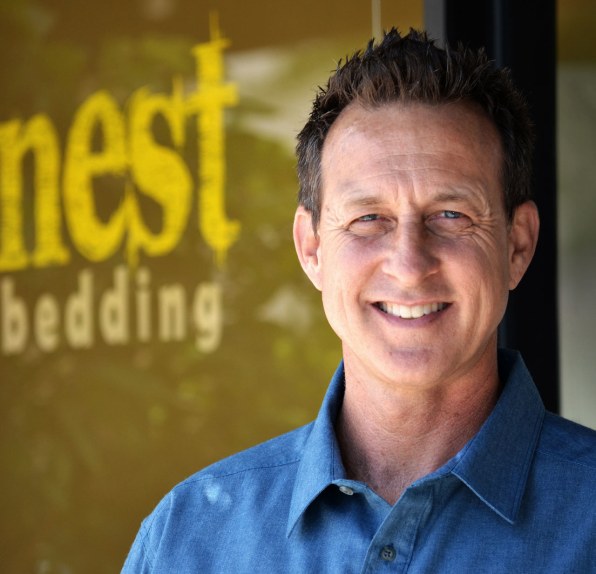 Derek's Leesa favoritism was no secret: he explicitly called it "Sleepopolis's favorite mattress," and a sidebar touting Leesa affiliate-link coupons graced nearly every page of the site. Mattress reviewers say their art entails recommending different mattresses to different types of sleepers, but in the 14 categories on his site for which the Leesa was eligible, Derek declared it first in seven of them, second or third in all but two of the rest. The Leesa was Sleepopolis's best mattress for side sleepers, best mattress for kids, best mattress for back pain, and best mattress for sex.
德里克偏爱丽萨人尽皆知,他甚至公开声明丽萨是"安眠城最钟爱床垫",还在页面侧栏挂上丽萨优惠券。床垫评测人说,他们这一行的精要在于为不同类型的睡眠者推荐不同的床垫,但是在德里克网站的14个上榜类别中,前七个都是丽萨夺冠,剩下五个不是亚军就是季军,只有两个门类跌出前三。丽萨是安眠城的侧睡最佳床垫、儿童最佳床垫、背痛最佳床垫、合欢最佳床垫。
It was possible that Derek genuinely loved the Leesa above all other mattresses; he'd reviewed it favorably even before Casper cut off his payments. But many people I spoke to suggested that other things were possible, too. If most mattress companies paid around $50 per commission, other companies paid two or three times that, even as much as $250. In one email I saw, an unscrupulous mattress reviewer said companies regularly approached him offering to "buy" top placement on his site; so long as the reviewer liked the mattress, he'd happily negotiate a price. "Honestly, the FTC has to step in at some point and make review sites divulge what they are paid for each bed or brand," Nest Bedding's Joe Alexander, told me. "This industry is a freight train out of control."
德里克对丽萨可能是真爱,卡斯帕中断合作之前,这种偏好就很明显。但是很多人都说不只是这样。大多数床垫公司一单佣金50美元,但有些公司付两到三倍,甚至高达250美元。但是在一封电邮里,我看到一位无良的床垫评测员说,有些床垫公司要买断他网站上的首推,只要读者喜欢他们的床垫,他也就顺水推舟了。"老实说,联邦贸易委员会一定要介入,规定评测网站公示每张床或每个品牌所收受的费用,这个行业已经乱套了。"巢寝的乔如是说。
Was Leesa playing this highest-bidder game with Sleepopolis? At first, I heard many rumors to that effect. I called Leesa's CEO David Wolfe in February, in an effort to find out. The middle-aged Wolfe, though now a resident in Virginia Beach, retained a charming British accent, and was a former marketer himself. The mattress industry has long been attractive to marketers, I learned, even before the internet got involved. As a mattress industry analyst recently told Freakonomics Radio: "You have to be a strong marketer to be in the mattress industry, because they're really selling identical, rectangular slabs."
丽萨真的给安眠城出了天价吗?起初,我听到很多传言。二月份,我打电话给丽萨的首席执行官大卫·沃尔夫求证。沃尔夫已到中年,虽然现居美国,却还是地道英国口音,本身也是营销出身。我知道,哪怕在互联网时代之前,营销人员对床垫行业也是趋之若鹜。有床垫行业分析师最近在经济电台说:"在床垫行业,只有强大的营销者才能生存,因为他们的产品只不过是一模一样的方板而已。"
Wolfe denied offering higher affiliate rates than competitors, saying he had always paid $50 per mattress, apart from one month when he had paid 60. He later repeated this assertion and had his lawyer call me to confirm it, and said he felt it was important for mattress companies and affiliates to operate on a level playing field.
沃尔夫表示其支付的佣金并不比竞品高,他说,一直以来都是每张床垫50美元佣金,只有一个月给过60美元。他后来一直坚持这个说法,让他的律师打电话给我确认,还说他觉得各家床垫公司和联属公司一定要公平竞争才行。
I asked Wolfe if he had ever offered Derek Hales a guaranteed income. Our friendly conversation took a swift turn. "The answer is no," he said, adding, "You should leave this to the attorneys." Later, he added, "I don't want to say something that could affect a pending lawsuit where Leesa is not a party."
我问沃尔夫有没有给德里克保底价。他话锋突变。"当然没有,"他斩钉截铁,还加了一句,"这个就交给律师来问吧。"后来他补充道:"我不想因为说错话,给丽萨惹上不必要的官司。"
SimilarWeb suggested that Derek referred 400,000 visits to Leesa.com between February 2016 and July 2017. If you assumed that about one in 12 referred visits ultimately led to a purchase—a conservative estimate according to people in the mattress industry I interviewed—that would suggest Sleepopolis helped sell 33,000 mattresses. Even a $50 commission per mattress meant $1.6 million paid by Leesa to Derek over those 18 months. When I approached Leesa's David Wolfe with these numbers, he called them inflated (SimilarWeb provides only estimates), but conceded that Derek was essentially Leesa's top salesman, accounting for 18% of the brand's total sales, which reached about $80 million last year.
分析网站SimilarWeb表示,德里克在2016年2月至2017年7月期间向丽萨提供了40万次访问量。根据床垫业内人士保守估计,假设有十二分之一的购买转换率,安眠城就促成了33000份订单成交。哪怕每张床垫只给50美元的佣金,这18个月丽萨向德里克总共支付了160万美元。我拿这些数字找沃尔夫求证,他说这是夸大其词(Similar Web提供的只是估计值),但承认德里克的确是丽萨的冠军销售,去年品牌销售总额8000万美元,德里克一人独占18%。
All told, these numbers suggested Derek may have been making as much as $2 million per year by 2016. And his site, in a hypothetical sale, would be worth a multiple of that. (A considerably less trafficked mattress-reviewing site recently went on the market for $1.4 million.)
也就是说,到2016年,德里克每年收入可能高达200万美元。而他的域名,根据网络估值,可能值上千万。(最近一个不太热门的床垫评测网域名售价140万美元。)
Derek had made millionaires among the new mattress entrepreneurs–and he himself was one of them. So while Derek's pockets weren't nearly so deep as Casper's, they certainly weren't shallow. He had stumbled into what was, outside of financial products, one of the more lucrative niches in affiliate marketing. If this was a David-and-Goliath battle, it was worth remembering that David became a king.
在床垫这个新兴产业,德里克造就了数个百万富翁,其中也有他本人。这么看来,虽然德里克比不上卡斯帕财大气粗,也算得上富得流油。他开拓的,是金融业之外,为数不多的高回报联属市场。如果这是巨人与小个子之间的战斗,请大家记住,后来小个子羊倌赢了,还当上了国王,留名青史。
Still, when his Manhattan lawyers first quoted their prices, Derek would have discovered that the cost of a fight to the bitter end–a trial by jury–could easily come to well over a million dollars itself.
不过,他请的纽约曼哈顿高级律师第一次报价的时候,德里克才发现,如果这场诉讼闹到庭审,成本轻轻松松就要超过一百万美元。
In February, Derek Hales faceda new salvo: A letter from Casper's attorney to the judge alleged that while Derek was reviewing Leesa's mattresses enthusiastically, he was not only receiving affiliate commissions but also payments for SEO consulting he provided Leesa. Reading this, I suddenly understood David Wolfe's skittishness about the last questions I had put to him over the phone.
二月份,德里克遇到了新麻烦:卡斯帕的律师给法官写了封信说,德里克之所以会对丽萨的床垫大加推崇,是因为他不仅收佣金,还收钱做丽萨的搜索引擎优化顾问。读到这,我恍然大悟为什么沃尔夫对我电话问的最后一个问题那么恐惧。
At a hearing in March, Derek's lawyer conceded that the consulting relationship was real; the payments had totaled about $40,000 over 20 months. In a game of millions, though, this was hardly the smoking gun Casper was probably looking for. Ultimately, after months of searching, I was unable to find any major financial inducement for Derek to favor Leesa over other mattress companies that paid him commissions. When I asked Nest Bedding's Joe Alexander why Derek preferred Leesa, he summed it up for me: "Derek just seemed like the kind of guy who left the dance with the girl he came with."
在3月份的听证会上,德里克的律师承认有顾问关系,报酬是20个月共计4万美元。然而,在这个百万量级的较量里,这根本不是卡斯帕想要的重大突破。最后,苦苦搜寻几个月之后,我依然没找到重大的经济诱因,促使德里克在众多同等报酬的床垫公司中对丽萨情有独钟。我问巢寝的乔为什么德里克更喜欢丽萨时,他一语道破:"德里克就好像那种随时能被女孩子勾走的人。"
Still, even if $40,000 wasn't tremendous, the mere fact of these side payments undermined some of Derek's claims on his site, probably harming his case. Around this time, Alexander was speaking to Derek weekly; they'd gradually become friends. The suit was clearly weighing on Derek. "He'd try to keep a good face on things," Alexander told me, "but you could tell–the hesitation in his voice, the contrived laugh. Things weren't going along as he had anticipated."
尽管4万美元并不是大数额,但暗箱收费这种事还是造成了一定的负面影响,对德里克很不利。这期间,乔·亚历山大每周都跟德里克通话,慢慢熟络起来。德里克的压力越来越大。亚历山大告诉我:"虽然官司缠身,但德里克表面上还是会尽量保持平和,但是,从他的言谈举止里还是能看出来,他压力很大,事态并不如意。"
In the March hearing transcript, there was discussion of momentum toward a settlement, one in which Derek might pay damages to Casper.
在3月份的听证会上,各方开始探讨和解,如果和解的话,德里克就要向卡斯帕赔钱。
But then, in the last days of April, Derek's lawyer submitted a surprising counterclaim against the mattress giant.
但是,四月底,德里克的律师出人意料地向卡斯帕提出反诉。
The claim added a dramatic early chapter to the story of Sleepopolis and Casper–right after Casper announced it would not be renewing its affiliate marketing contracts back in the summer of 2015.
在反诉中,他补充了早期安眠城和卡斯帕之间的小故事,当时是2015年夏天,卡斯珀宣布不再与安眠城续约。
"Immediately after Casper announced this termination," the claim alleged, "Casper approached Hales and offered to resume the relationship, on terms considerably more favorable to Hales, if Hales would agree to state a more positive opinion of Casper's mattress on Sleepopolis. Hales refused."
"在卡斯帕宣布终止合作之后,卡斯帕又回头联系德里克,提出只要德里克在安眠城上对卡帕斯床垫做好评,马上恢复合作,而且提供更好的报酬。但德里克坚决拒绝了。"
Shortly after this refusal, alleged Derek's lawyer, "Sleepopolis came under a massive negative SEO attack." Tens of thousands of links to Sleepopolis began mysteriously cropping up on sites that Google's algorithms deemed low-quality, he wrote. Since Google demotes websites that are linked to by low-quality sites, Sleepopolis's esteem was hurt by association, and Google began demoting Sleepopolis in searches. Suspiciously, a large proportion of the toxic links pointed to Derek's Casper content, particularly hurting him in Casper-related searches. (Derek eventually resolved his problem by hunting down the bad links and creating a "disavow" list for Google.)
拒绝之后不久,"安眠城遭受了大量的负面搜索引擎攻击"。成千上万个跳转到安眠城的链接开始无缘无故出现在钓鱼网站上。因谷歌的算法将这些链接归为劣质链接,安眠城的排位也受到牵连,导致安眠城的排位在检索结果中下滑。有一点很神秘,很大一部分有害链接指向了德里克对卡斯帕的评测,所以与卡斯帕相关的搜索中,德里克受损最惨重。(德里克追查这些链接之后,在谷歌上拉黑这些链接,终于解决了这个问题。)
Derek's lawyer, having learned that Casper contracted with a "reputation management firm" at just this time, alleged that Casper was behind the SEO attack on Sleepopolis. His lawyer was now insisting that Derek was the wronged party in the suit, not Casper, and demanded that Derek be awarded damages instead.
德里克的律师表示,这些搜索引擎共计的始作俑者就是卡斯帕,因为那段时间卡斯帕刚好雇了一家"声誉保护公司",专长这类苟且。因此,德里克的律师简称,这起诉讼案里,真正的受害者是德里克,而非卡斯帕,该得到赔偿的是德里克。
Casper's lawyers soon fired back with a motion to dismiss Derek's counterclaims–a "thinly spun tale," they scoffed, with "no evidence linking Casper to the alleged SEO attack." The newly escalated legal battle hurtled on.
卡斯帕的律师则很快反击,要求撤销德里克的反诉,说这种说法无非是"道听途说、坊间传闻、捕风捉影、恶意诬陷"。于是诉讼案逐渐升级,毫无停息的趋势。
On one of the last days of July, I opened my inbox to find an email from a correspondent, another close observer of Sleepopolis. "Did you see this???" ran the subject line. Inside was a link to Sleepopolis.
七月底,另一位关注安眠城诉讼案的记者给我写了一封邮件。邮件的标题是"知道这个吗???"邮件里是睡眠城的链接。
The site still looked as it always had: the dark header, the elegant logo featuring a skyline nestled in a crescent moon. But in place of Derek's smiling face, there was now someone else: a young man in a blue blazer who I didn't recognize. "Welcome To The New Version Of Sleepopolis!" ran the header.
网站还是老样子:上边的标题栏是黑色的,图标很简洁,是城市高楼的剪影睡在一弯月牙上。可是,原来放着德里克照片的地方换成了别人:是个我没见过的年轻小伙子,穿着蓝色西装。标题上写着"欢迎访问新版安眠城!"
"Hello!" ran the text beside the headshot. "My name is Dan Scalco and I'd like to personally welcome you to the brand new version of Sleepopolis. Here's what's up… On July 25th, 2017 our company acquired Sleepopolis.com …. Derek Hales and Samantha Hales are no longer associated with Sleepopolis."
照片旁边写着"你好!""我叫丹·司佳乐,热烈欢迎你访问全新版安眠城。事情是这样的……2017年7月25日,我们公司收购了安眠城网站……德里克夫妇与安眠城已经没有任何关联了。"
An italicized note added:
旁边还有一则斜体说明:
"In July 2017, a subsidiary of JAKK Media LLC acquired Sleepopolis.com. Casper provided financial support to allow JAKK Media to acquire Sleepopolis."
"2017年7月,JAKK媒体有限公司之分公司收购安眠城网站。JAKK媒体获卡斯帕资金支持进行该收购。"
This was disorienting, to say the least. What was JAKK Media? It had bought Sleepopolis with a loan from Casper? I typed out a question to my correspondent: "Who is Dan Scalco?"
这就让人很糊涂了。JAKK媒体是谁?这么说他们从卡斯帕那里借钱买了安眠城?我给这位同行回信问:"丹·司佳乐是谁?"
The reply explained that Dan Scalco worked with someone named Joe Auer, who co-owned two mattress reviews sites. The name seemed vaguely familiar, and I figured his initials accounted for the JA in "JAKK Media." But who was KK?
他回信说,司佳乐有个同事叫骄·奥尔,奥尔有两个网站专门评测床垫。这个名字很眼熟,仔细一看,才发现这个名字的缩写JA就是JAKK的前两个字。那KK是谁?
Then it hit me.
突然我灵光一闪。
Kenny Kline, the guy who had given me my free mattress… now owned Sleepopolis.
不就是肯尼·克莱恩,那个送我免费床垫的家伙现在成了安眠城的站长。
I called up Kenny, trying to make sense of this strange development. But whatever bond forms between men who have exchanged a bottle of wine for a mattress wasn't enough for him to violate his NDA.
我打电话给肯尼,想搞清楚背后稀奇的来龙去脉。但是我俩之间的情谊无非只是我给了他一瓶酒、他给了我一张床垫,这点感情还不足以让他违反保密条例。
"It's kind of a mystery, what happened," he said, keeping mum about details. "The website came up for sale, and I acquired it." Kenny said he hoped to repay Casper soon and be able to remove the disclaimer, but for the time being he wanted to err on the side of transparency.
"就这么神奇地发生了而已。"他对细节只字不提。"这个网站挂出来出售,然后我就出手收购了。"肯尼说,他想尽早还清卡斯帕的欠款,这样就能把网站上的声明撤掉了,不过目前来看,他宁愿保持信息透明。
Kenny Kline and Dan Scalco swore that Casper wouldn't touch the site. Casper's Philip Krim told me the same: "We exert no influence and have no influence over the site, other than that we lent them money." A Casper spokesperson added that the company currently has no access to Sleepopolis's data.
肯尼·克莱恩和丹·司佳乐都信誓旦旦地保证,卡斯帕绝对不会插手网站内容。卡斯帕公司的克里姆也做了同样的保证:"我们不会影响网站内容,也无权影响,我们就只是借了钱而已。"卡斯帕公司发言人补充说,他们也无权查看安眠城的任何数据。
The new owners of Sleepopolis did disclose on the site: "Until the loan is satisfied, Casper has the contractual right to repossess the assets and forgive the remaining value of the loan…yes, that was written by our lawyers ;)." Repossess the assets: in other words, take over Sleepopolis, if it came to that. But Krim said this was just "lawyer language protecting our loan, so we get paid back."
安眠城的新站长还在网站上公务了如下信息:"在借款还清之前,卡斯帕有权收回该资产并豁免剩余欠款……对,这句话是我们律师写的:)。"收回该资产:也就是说,还清借款之前,卡斯帕有权接管安眠城。但是克里姆说,这不过是"律师的巧舌三寸,保证他们还钱罢了。"
On the same day in July that Kenny and I spoke, Casper v. Hales was reaching its final stages of settlement, with both parties agreeing to drop the suit. On July 28, 2017, the court deemed the case resolved.
七月底我和肯尼联系那一天,卡斯帕与德里克之间的诉讼也到了和解的最后阶段,双方都同意撤诉。2017年7月28日,法院宣布该案完结。
Derek wouldn't answer my calls. I wasn't alone in that: Whatever NDA was in place was evidently ironclad. "I was an intimate friend with Derek," Joe Alexander, the Nest Bedding CEO, told me, "and apparently I can never talk to him again." His best guess was that Derek sold Sleepopolis in the end for about half what it was actually worth, but still something like $3 million to $5 million. "I'm going to venture to guess Derek is sipping margaritas somewhere, laughing at all of us," said Alexander good-naturedly. Online, I found a Halloween picture of Derek and Samantha dressed as Neo and Trinity from The Matrix, wearing sunglasses and brandishing toy guns. I imagined them buying a Corvette and speeding off into the sunset, the Bonnie and Clyde of affiliate marketing.
德里克的电话无人接听。不止我一个人这样:他们签的保密协议绝对滴水不漏。巢寝CEO乔·亚历山大告诉我:"我和德里克是好朋友,不过现在看来,我跟他再也不能说话了。"他猜,德里克最后出售安眠城的价格只是市值的半价,但还是有300万美元到500万美元。"我敢说,德里克现在不知道在哪儿喝着小酒笑话我们呢!"亚历山大戏谑地说。我在网上找到一张德里克夫妇万圣节留影,他俩打扮成了《黑客帝国》的尼奥和崔尼蒂,戴着墨镜,拿着玩具枪,很酷帅。在我想象中,这两个人就像联属营销业的雌雄大盗,开着敞篷跑车,潇洒驶向夕阳。
Through August and September, I watched as Sleepopolis evolved under its new ownership: Dan Scalco's face took the place of Derek's in comment threads, and then Scalco disappeared too, quietly replaced by yet another editor. Various bedding advertisements began to crop up; the formerly ubiquitous Leesa-touting sidebar disappeared, and Sleepopolis began referring much less traffic to Leesa.com.
整个八月九月,我见证了安眠城易主之后的转变:丹·司佳乐的头像代替了德里克的头像,开始回复网友的评论,后来司佳乐也消失了,换成了另一个人。网站上开始出现各种各样的床具广告,之前专门推荐丽萨床垫的边栏广告消失了,导向丽萨网站的流量也越来越少。
But the most significant change to Sleepopolis came right away. From the first days of the site's new management, that thorn in Casper's side–Derek's damning yellow box, pointing prospective buyers to competitors–disappeared from Sleepopolis's Casper review. In its place there appeared a green box, with a coupon linking straight to Casper.com:
但是最大的变化来得最快。网站刚刚易主,卡斯帕的肉中刺就被拔掉了,原来那个文本框,劝潜在顾客买别家床垫的广告完全消失了。在原来的地方换了一个绿色的框,是链接卡斯帕网站的优惠券:
By early September, the updated Casper review amounted to an endorsement. "Overall my experience with Casper was very positive," the new review concluded.
到了九月,卡斯帕床垫的新评测简直把他们捧上了天。新评测说:"总而言之,卡斯帕给我的体验非常棒!"
Casper's battle had been hard fought, but it got what it wanted in the end. Now those who saw cute Casper ads on the subway and later Googled "casper mattress reviews" would no longer have their purchase momentum stymied by the first site they clicked on. They'd be waved along by Sleepopolis's green light.
卡斯帕确实打了一场硬仗,好在最终还是如愿以偿。如今,看到地铁上卡斯帕萌宠广告的人,以及上网搜索"卡斯帕床垫评测"的人,看到的第一个搜索结果不会对卡斯帕颇有微词,也就可以放心大胆地购买了。安眠城上一路高歌,把顾客导向卡斯帕。
Casper had finally hammered out the last, most troublesome kink in the yawning purchase funnel that lured ever more traffic to its billion-dollar online storefront. The company could indeed claim, as it did on its site, to have "the internet's favorite mattress."
卡斯帕终于苦尽甜来,铲除了消费者渠道上最后一颗也是最难缠的一颗毒瘤,迎来流量的峰值,造就了数亿美元的网络商城。这下,卡斯帕可以放心大胆地在网站上宣布,他们是"网络最受欢迎床垫品牌"。
It had made very sure of that.
毕竟,他们可是用尽浑身解数确保如此。